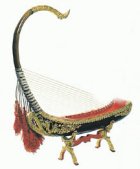 Consciousness creates the world
On speaking of the transmigration of the soul, the talking point always lies in the peculiarity, or even the irrationality of lives. However, such a saying must hinge on one hypthesis: the roaming of consciousness ......


Soul pacifier: 阀saung-gauk"

A Japanese book critic Chuk-San Dao-hung writes a marvelous novel named 阀saung-gauk法(which means 阀Burmese Harp法), in which describing a solider changing into a monk who buries those unidentified corpses around Burma.

[more......]
More innovative columns, awaiting your valuable opinions!

Saints' words:

"Tradition does not mean that the living are dead but that the dead are living."

G. K. Chesterton


Death Education: Top Priority
In daily lives, we always get chances to deal with the death and hence are affected, in particular for youngsters. Sometimes, they even feel anxious about it. Thus the death education is really a top priority to be handled immediately.
[more......]

Mosuo people -- Observing death with open mind
We can see that the Mosuo's ceremony does surpass the idea of paying the last attribute. It is an open-minded thought merging the living and dead!
[more......]

To Pursue For Eternity
Is there anything in the world that can win for good?
[more.......]

The Final Step Of Evolution
It appears that there are too many variables for the final step of evolution!
[more......]

copyright reserved by PROLife, www.the-funeral.com.hk . All materials in this site are PROLife's intellectual property. Any kind of privacy is strictly prohibited.